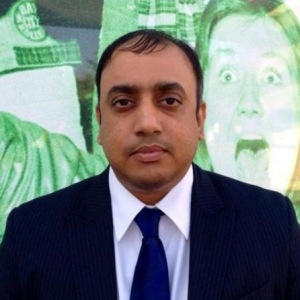 Bharat Pathiavadi
Chief Operating Officer
EXPERTISE // Org/People Strategy, Product/Technology Leadership, Strategy & Innovation, Governance, Omni/Multi-Channel Digital Footprints, Org-wide Transformation/Change, Global Strategic Planning & Enterprise Architecture, Business Analysis, Delivery, Financial Oversight , Privacy, Compliance (Internal, Association, Legal/Regulatory), Risk, Financial Crime (Fraud, AML, KYC, Sanctions), Social Responsibility, Sustainability, Food Security.
Bharat is currently the Chief Operating Officer and board at CSCIS. He has been with CSCIS since August 2012 in various capacities including being on the Global Advisory Board, as a Senior Advisor Eurasia and as VP Business Development. He has expertise and leadership experience across strategy, a broad range of products/ technologies/ processes, Risk, Privacy, Financial crime, Social responsibility, Sustainability and Food Security.
He has over 28 years' experience starting up, building and managing retail and corporate businesses from scratch (global products, operations & technology) across a variety of sectors including Banking, Fintech, Marketplaces, Food (agriculture, aquaculture, deep-sea fishing), Transport, Construction, Information Technology, Consulting and the not-for-profit space.
Bharat brings a wealth of experience working with senior board-level stakeholders and as a member of the Board of Directors at CSCIS focuses on Overall Strategy, Partnerships, People, Governance, Finance, Innovation, Shaping Product/Service and Client engagement groups, Business Development, Streamlining Day-to-day operations, Sustainability and helping elevate them to world-class standards.