UK Cabinet Officee
United Kingdom National Cyber Strategy 2022
The United Kingdom is an open and democratic society, whose record in collaboration and innovation underpins our success as an outward-looking global nation. We see this in our response to international health emergencies and in our promotion of Net Zero targets. But nowhere are the advantages of this approach more evident than in cyber.
Publisher – UK Cabinet Office / HM Government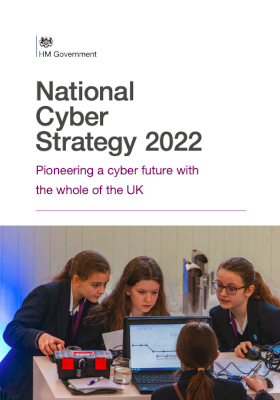 The opportunities and challenges of the digital age
Exponential advances in technology combined with decreasing costs have made the world more connected than ever before, driving extraordinary opportunity, innovation and progress. The coronavirus (COVID-19) pandemic has accelerated this trend, but we are likely still in the early stages of a long-term structural shift. The global expansion of cyberspace is changing the way we live, work and communicate, and transforming the critical systems we rely on in areas such as finance, energy, food distribution, healthcare and transport. In short, cyberspace is now integral to our future security and prosperity. This offers extraordinary opportunities for technologically advanced countries like the UK to pursue their national goals in new ways.
The scale and speed of this change – often outpacing our social norms, laws, and democratic institutions – is also unleashing unprecedented complexity, instability and risk. The past year has seen cyber attacks on hospitals and oil pipelines, schools and businesses, some brought to a standstill by ransomware, and commercial spyware used to target activists, journalists and politicians. The transnational nature of cyberspace means these challenges cannot be addressed without international collaboration, but it is also an increasingly important arena of systemic competition and the clash of competing interests, values and visions of our global future.